The 2012 US Olympic Marathon Trials look to be a great competition. The field is one of the deepest in recent memory and there are many unknowns going into the race. It is going to be very exciting!
1. The clear favorite is Ryan Hall. Hall ran 2:04:58 at the 2011 Boston Marathon. I don't care if it was windy and there was a net elevation loss, Boston is simply not that fast of the course. Hall also has the second and third fastest performances on the list going into the trials.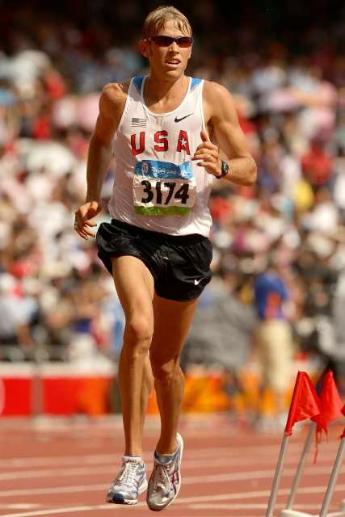 2. After Hall there are a mess of guys gunning for the second qualifying spot. My pick is the second performer on the list

,

Meb Keflezighi. Until his performance at New York I would have written off Mr. Skechers as a favorite to qualify for the Olympics for the third time (2nd in marathon). However, Skechers seemed to revitalize the 36 year old and he ran a PR of 2:09:13.
3. After Meb, I expect a couple of men who have never ran the marathon to battle for third. My pick is Galen Rupp. Rupp is qualified on his performance of 60:30 at the New York Half. He also ran 26:48 over 10,000 meters to set the American Record in 2011. Rupp has reportedly been training with the marathon crew and has been holding his own.
4. The other newbie to the Marathon is Mo Trafeh. Mo outkicked Ryan Hall for the 2011 US Half Marathon Championships and also won the 10 Mile and 15k championships this past year as well. Trafeh also ran a 61:39 half in China this past month. Inexperience at the longer distance may be the only limiting factor for Trafeh.
5. At the number 5 slot I hesitantly put Dathan Ritz. When healthy and fit this man is at least the second best American Marathoner if not the best. However, Dathan has been riddled with injury and we haven't seen a potentially qualifying performance from him in nearly 3 years. Dathan will finish in the top 10 due to sheer talent and determination but there hasn't been enough time for him to get into sub 2:10 shape.
6. The 6th and 7th spots will be occupied by Team McMillan Elite/Adidas Athletes Brett Gotcher and Nick Arciniaga. Gotcher is one of 4 athletes under 2:11 with his 2:10:36 performance at the 2010 Houston Marathon. He may have had a rough second marathon but I expect him to be fully prepared for the Trials race.
7. As stated earlier, my pick for 7th is Gotcher's teammate, Nick Arciniaga. Nick ran 2:11:30 at last years Houston Marathon and I expect a similar performance at the Trials.
8. Coming in the 8th spot in my predictions is Jason Hartmann. Hartmann, who hails from the same high school as Ritz and the same college as Rupp, is an experienced veteran. He has the 5th fastest qualifying marathon with a 2:11:06 while finishing as the top American at Chicago in 2010.
9. The 9th runner in my prediction is Ed Moran. Ed debuted at New York this year with a 2:11:46. Watching the race, it seemed like Ed had more in the tank and is capable of sub 2:10. We'll see how Ed does in Houston with just over 2 months rest from New York.
10. Finishing in the top-10 in most likely his last Olympic Trials is Jason Lehmkuhle. The Team USA MN runner was 5th at the 2008 Olympic Trials and is a smart and fierce competitor. Look for Jason to move up if the pace is fast early and the inexperienced runners mess up.
Team USA MN Pre-Trials Video:
http://www.flotrack.org/coverage/240321-USA-Olympic-Marathon-Trials-2012-Houston/video/555745-Olympic-Marathon-Trials-with-Team-USA-Minnesota
Chris Erichsen (St. John's, MN) Mile Workout:
http://www.flotrack.org/coverage/240321-USA-Olympic-Marathon-Trials-2012-Houston/video/547559-Chris-Erichsen-Mile-Repeats-2011-US-Olympic-Marathon-Trials
List of Qualifiers:
http://www.usatf.org/events/2012/OlympicTrials-Marathon/entry/entryMen/eligible.asp
MN Ties at the Trials:
http://downthebackstretch.blogspot.com/2011/12/twenty-six-minnesotans-enter-olympic.html