Here are a few ways that NASCAR does things better than Track and Field. No, I am not saying that I like NASCAR or that I think it is better than running in any way, shape or form. However, I think we can learn a few lessons from those guys.
1. Advertising. Yes, I know Nick Symmonds just sold his arm on eBay and that this area might be in reform but we still are far behind. I think that the shoe company that sponsors an athlete should be like the brand of car a driver uses. They should be able to have a prominent logo but that's as far as their power goes. The athlete or their agent or whomever should try and secure other brands to sponsor the athlete. The athlete can put these logos on their jersey, warm-ups, appear in commercials, talk about them at a press conference, use their products in public, etc. All of this would bring more money and attention to track and field and that my friends, is a good thing!
2. A more organized competitive schedule. Something like the Diamond or Golden League comes to mind. The NASCAR racers have their specific cups and they all attend all the races so they can accumulate points so in the end there is actually a winner. Yes, I know that track athletes can't go out and race all-out every weekend but they could race a little more. They could race at times when the conditions aren't perfect. They don't need to break a record every single time out.
-This past weekend provided a fine example of how Track not having an organized schedule hurt the sport: Galen Rupp just broke the American Record in the 2-Mile run. That record was held by Bernard Lagat who just broke the American Record in the 5000m run. Galen ran at the U of Arkansas in Fayetteville at the Tyson Invitational and Lagat ran at the Millrose Games in New York. As a track fanatic I have to ask a few questions. First, who is better, Lagat or Rupp? Second, why didn't they race each other? Third, why were these races on the same day? Wouldn't a lot more interest have been generated if these two had raced each other in the 5000 at Millrose last Saturday and moved the Tyson to another weekend where they could race each other again. Rivalries are great for this sport! Look at USA vs the Soviets, Ovett vs Coe. Those two rivalries drew a lot of attention to track from people who probably didn't even care about track but only cared about the rivalries.
3. NASCAR gets prime TV for every one of their races! Track gets poor coverage, usually not live, and not at a good time. I have watched a lot of Diamond League meets in the wee hours of the morning on Universal because that is the only time they were on. I think this part of the sport would greatly improve with an increase in advertising.
I guess I only have three main points to discuss today but really, track is a like-able sport and as a true track fan I have to worry about the future of the sport. If NASCAR can promote a bunch of dudes driving cars around in circles for hours on end then we should be able to achieve a similar amount of success with track and field.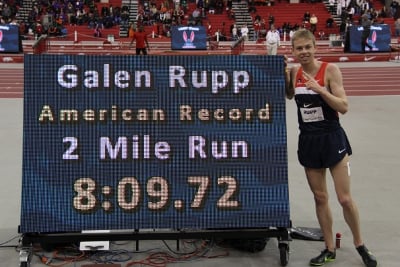 Galen broke Lagat's record at Tyson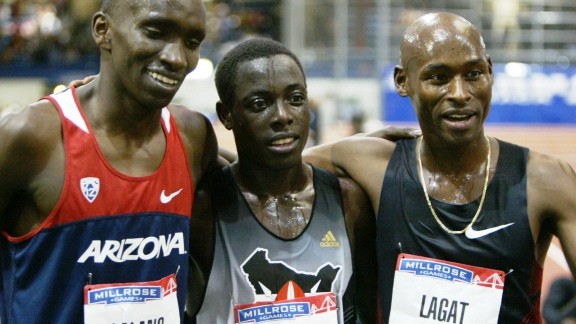 Lawi Laland, Edward Cheserek, and Bernard Lagat set records at Millrose