1993- Merlene Ottey of Jamaica runs 21.87 seconds in the 200m to claim to World Indoor Record in France. Ottey, who competed collegiality for the University of Nebraska, also has the third fastest time ever in the 200m outdoors. Ottey had a very long and successful sprint career. She first went to the Olympics in 1980 and last competed there in 2000. She won three silver and six bronze medals at the Olympics and added six golds and many more silver and bronze at the World Championships.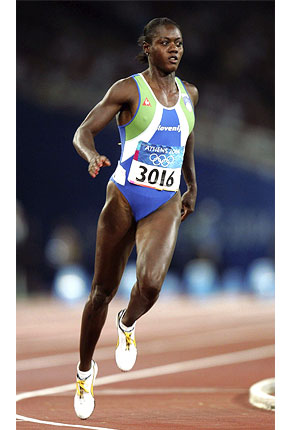 Ottey Competing in Athens for Slovenia
1988- Heike Dreschler of East Germany set the World Indoor Record in the Long Jump with a leap of 24 feet, 2.5 inches or 7.37 meters. Dreschler also held the outdoor long jump record and tied the outdoor 200m world record as well. Dreschler was always suspected of doping but she never failed a drug test in her whole career. Her career spanned the same time period as Ottey's, rising to prominence in the early 1980s and wrapping it up with a Gold in the Long Jump in Sydney.
Heike Dreschler