Zoom Victory Elite
Nike Zoom Victory Elite: Specifically designed for the 1500-meter race, the Nike Zoom Victory Elite combines an ultra-responsive carbon plate with a dynamic Nike Flywire upper. The result is a groundbreaking shoe that helps maximize athletes' on-track potential.
Similar to the Nike Zoom Superfly R4, the Nike Zoom Victory Elite employs innovative Nike Flywire in the upper. The high tensile strength Nike Flywire cables wrap around and under the foot to provide a more personalized fit while also providing a secure connection to the underfoot spike plate.
The lightweight foam midsole provides responsive cushioning, while a new tongue construction improves fit and comfort by reducing lace pressure on top of the foot.
An innovative carbon fiber plate provides the ultimate combination of traction, support and flexibility while also reducing weight. 5 layers of carbon in the midfoot provide stiffness to help runners stay on their toes. The forefoot plate is composed of 3 layers of carbon to provide a flexible and highly responsive platform with 6 spikes for traction and propulsion.
These features combine to offer superior fit and comfort, enhanced support, greater flexibility, traction and mobility in our lightest, fastest 1500M spike ever.
Source:
4Traders.com
Superfly R4
My opinion: These spikes will be seen all over in 2012, World Indoor Championships, Olympic Trials, Olympic Games, etc. However, they won't be seen on your feet anytime soon. Maybe they will release these December 1st or January 1st of 2013. And by that time you might not even see these sweet colorways! Anyway, I really like the look of the new Victory. It gets rid of the old plastic like upper and replaces it with a new Mamba like upper but still keeps the flywire for strength. The heel cup and upper look very comfortable and this shoe looks like it will be a great 3k, 5k and even cross country shoe. I know many people used the Victory for these events before but it was too agressive for me. This shoe looks all around awesome. Too bad I am graduating!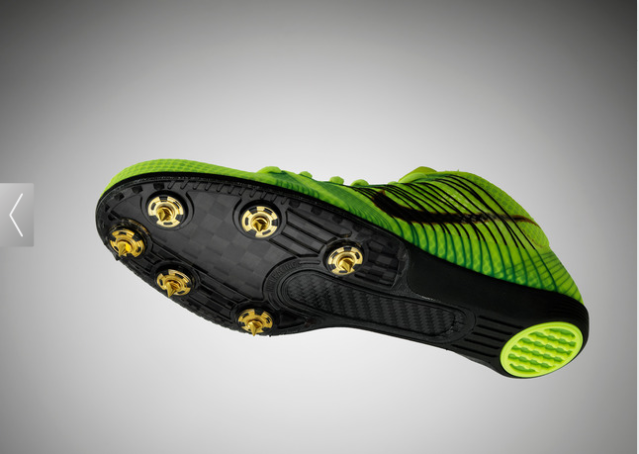 Vic Bottom