Today I ran my second run in my new Skechers GoRuns. My first run was only 1 mile and was on a synthetic surface so the shoes have 9 miles on them total. Here is my report thus far:
Super Bowl Commercial
Retail Price: $80, very reasonable in today's running shoe market
Weight: 6.7 oz, very good for a trainer. Lighter than some flats.
Heel Drop: 4mm, an optimal one for me. Others prefer 0.
Feel: Wow. These shoes are very light. When running, you can't hear your footsteps due to the softness of the foam on the sole. These shoes are definitely not for heelstriking. If you do, it feels uncomfortable. If you run how these shoes are designed it is very comfortable and supportive. They say you can run without socks and I see how that is possible. The insides are soft and seamless and your foot doesn't move around very much inside the shoe. The toe box is about perfect width. Not too tight or too loose. I have slightly wide feet.
Looks: Other than the sides, the shoes look good. The sides make them look like a pair of shoes you would pick up at Wal-Mart. They come in a variety of colors. The mid-sole looks closer to a Nike Free than a ReeZig which is good.
Durability: This is where this shoe will take a hit in my rankings. After the first run, the foam on the toe was visibly wearing away. The problem is the materials and the fact that these shoes don't have a sole. It goes straight from the midsole to the ground. I also have doubts about the upper. I don't see these shoes lasting more than 300 miles. If I was wearing these for every run I would go through them in less than a month. That just isn't economically viable. Especially when I have put over 2000 miles on a pair of Nike Frees.
Uses: These shoes are very light and seem to be quite versatile. I can see them being used as a flat or even a road racing shoe. They weigh less than the Nike Marathoners and similar to the Lunarracers. I will probably use them for morning runs and shorter runs to prolong their life.
Overall: They got the right idea but went wrong in the construction and materials. They might have sacrificed to save money, weight or both.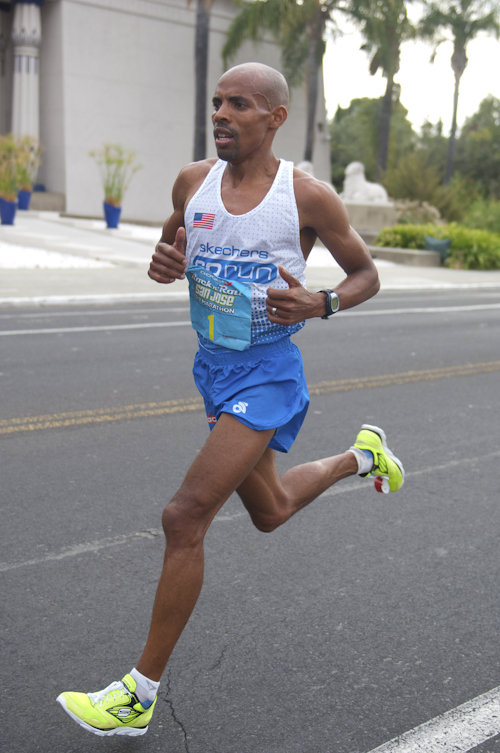 Meb Wearing some form of GoRuns
A few different angles
3/26 Update: I have worn these things a few times and they hurt my fascia every time I wear them. I have never had fascia problems otherwise. They still feel great while wearing them but during my next run they hurt.