The South Dakota State Jackrabbits announce their 2012 Cross Country recruiting class. These boys signed on National Signing Day, February, 1st. More will sign as they make their decisions in the next couple of weeks. It's another great day to be a Jackrabbit!
Stephen Bruha- Prior Lake, MN- Stephen is a mid-distance specialist who placed 5th at the 2011 Minnesota State Meet in the 800. He also led his team to a 7:57 4x800 and carried 1600 PRs of 4:25 and routinely split sub 50 in the 4x400.
Kipp Kinsley- Yankton, SD- Kipp is a longer distance oriented runner. He holds 4th place finishes in state cross country and the 3200m. Kipp also ran 4:28 in the 1600m to place 10th.
Jensen Orlow- Holy Family Catholic, Victoria, MN- Jensen was All-State in track his Junior year with a 7th place finish in the 3200m. He was also the Section 2AA champion in cross country, running under 16 minutes for 5k. His track PRs are 4:26 for 1600m and 9:34 for 3200m.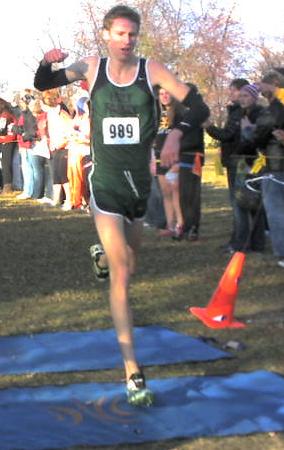 Joel Reichow- White Bear Lake, MN- Joel is a two time All-State cross country runner from White Bear Lake, Minnesota with a high finish of 9th place in 2010.
Dylan Slaba- Sioux Falls Roosevelt, MN- Dylan narrowly edged Kipp to place 8th at the state meet in the 1600 with a time of 4:27. Dylan was also on the runner-up 4x800m relay team. In the fall, Dylan placed 8th in Cross Country.
Grant VanKeulen- Marshall, MN- Grant is a talented all around runner. His main event in track is the 800 in which he holds a PR of 1:58. Grant is also a successful cross country runner, qualifying for the state meet 3 times.
Phillip LaVallee- Monticello, MN- Phillip is a solid all around performer with personal bests of 1:58.05, 4:32 and 9:47. Phillip was also the top finisher of the Jacks recruits at the MN State Meet earning an All-State award with a 16th place finish and a time of 16:06 for 5k.
LaVallee at center
Austin Hamm- Bloomfield, NE- Austin ran 16:27 at his state meet to win by nearly 20 seconds. He also won the 3200 meters last spring with a time of 9:57 and finished 3rd in the 1600 with a time of 4:37.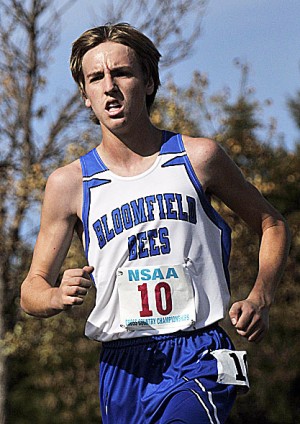 Connor Branick- Sioux Falls O'Gorman- Connor was 11th at the state cross country meet last fall with a time of 16:28.